Answers to Giving Names to Rocks Plotted On a Ternary Diagram
---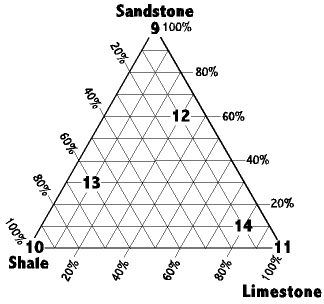 Take a rock like 12. It has the following composition:

12. 60% Sandstone | 10% Shale | 30% Limestone = 100%

Give this rock a name that you think is logical.

Answer Shaley, limey, sandstone.

Why? Well it is basically a sandstone since sand is the most common component. The major component always comes last in the sequence of names.
The other components are then adjectives, and are always listed in order from least abundant to most abundant. It is that simple.

Try it now for specimens 13 and 14. First estimate the percent abundance of sandstone, shale and limestone. Then construct the name of each rock.
Depending on how your screen is set up you should not be able to see the answers posted below untill you scroll down.







---

13. 30% Sandstone | 60% Shale | 10% Limestone = 100% Limey, sandy, shale

14. 10% Sandstone | 10% Shale | 80% Limestone = 100% Ah, now this one is a problem. It has two components that are the same abundance. What do we do?
Well, it is probably unlikely that the rock has two components that are exactly the same abundance. So, we go back to the rock and study it more carefully, and try to nudge one of the components up in abundance, while nudging the other down. We have done that by increasing the sandstone to 15% and decreasing the shale to 5%, giving the following name:

Sandy, shaley, limestone


---
Want more practice, continue scrolling down.
---
If you want to try naming the other rocks in the primer, convert the apexes A, B, and C into sandstone, shale and limestone, and then name them. Links to each ternary diagram are below, and if you click on each of the ternary diagrams they will bring you back to the answers below.


Go to Ternary Diagram with plots 1, 2, 3, 4.

1. 60% Sandstone | 20% Shale | 20% Limestone = 100% Another difficult one, but however you were to nudge the compositions, it will still be a sandstone of some sort.
2. 25% Sandstone | 40% Shale | 35% Limestone = 100% sandy, limey, shale of some sort.
3. 10% Sandstone | 70% Shale | 20% Limestone = 100% sandy, limey, shale.
4. 0% Sandstone | 25% Shale | 75% Limestone = 100% shaley limestone, shale.
Return to Ternary Diagram


---

Go to Ternary Diagram with plots 5, 6, 7, 8.

5. 70% Sandstone | 20% Shale | 10% Limestone = 100% limey, shaley sandstone.
6. 60% Sandstone | 40% Shale | 0% Limestone = 100% shaley sandstone.
7. 30% Sandstone | 50% Shale | 20% Limestone = 100% limey, sandy, shale.
8. 10% Sandstone | 15% Shale | 75% Limestone = 100% Sandy, shaley, limestone.
Return to Ternary Diagram


---

Go to Ternary Diagram with plots 9, 10, 11, 12, 13, 14.

9. 100% Sandstone | 0% Shale | 0% Limestone = 100% Sandstone.
10. 0% Sandstone | 100% Shale | 0% Limestone = 100% Shale.
11. 0% Sandstone | 0% Shale | 100% Limestone = 100% Limestone.
12. 60% Sandstone | 10% Shale | 30% Limestone = 100% Shaley, limey sandstone.
13. 30% Sandstone | 60% Shale | 10% Limestone = 100% Limey, sandy, shale.
13. 10% Sandstone | 10% Shale | 80% Limestone = 100% A limestone of some kind, depending on how the sandstone and shale are nudged.
Return to Ternary Diagram


Return to Reading Ternary Diagrams Return Ternary Classification for Clastic Rocks